Are you aware of the benefits of shopping ads? Do you know, they work great for e-commerce companies?
We are going to share some ideas about Google Shopping Ads. Today, you'll learn what they are and how they help business owners?
Here, you'll get all the needed knowledge for happily creating Google Shopping Ads.
Be ready to boost the success of your business!
Let's start.
What are Google Shopping Ads?
Google Shopping Ads are Product Listing Ads. They are displayed when people search for a product on Google.
Probably you have seen them in the past.
Shopping ads have become an essential advertising channel for e-commerce retailers for a long time.
They are part of the Google Ads Ecosystem and allow users to promote their store products by making specific ads.
Customers will see all products in the main search engine results or under the shopping tabs.
The ongoing of the process
When a customer clicks the shopping tab, they will see this page.
And that is what happens, when people write, for example, "sneakers" on search. They can see sponsored ads of sneakers appearing on the top of the page.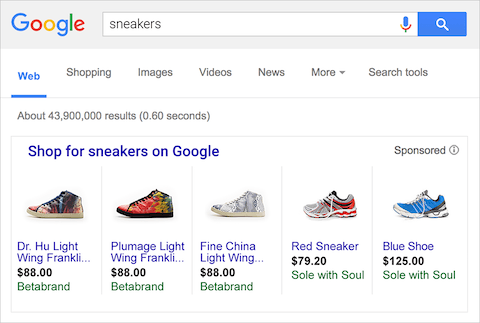 Google Ads- way to build a revenue stream
Do you know the effect of Google Ads on your business? Start to promote your website online with shopping ads.
You will find potential people who search and like your business or products. It is quite simple to do.
But if you still not sure "how does Google Shopping Ads work", see below instructions:
Write your Ad copy
Choose targeted keywords
Set a daily max budget
Select the campaign's start and end dates
With a little help of your friend Google Analytics
If you link Google Analytics to your Google Ads account you will have more chances to optimize your Google shopping ads.
How?
For example, you can customize ads using specific terms you get with the help of Google Analytics. It helps you to know people who have visited your site or did some conversions.
By using this data you can identify terms, found by people while searching. These terms will give you a high-rank possibility if you use them as keywords and on bidding strategy.
When you link accounts, you get access to the full picture of user behavior. Google Ads account alone doesn't give you data on what the visitors do after clicking to the ads. Google Analytics helps you to see what factors on the site affect conversions.
You can use certain metrics like Average Visit Duration or Pages Per Visit. These indicate that the visitors might have some problems while looking at your offer in the Ad copy.
How does Google Shopping work?
Having a product that is at the top of Google search engine results, means, you have more chances to recognize your business in the buyer's journey. Also, you can get millions of viewers.
With shopping ads, you show products to targeted people to visit your site and take action.
Make sure to choose an audience correctly. Shopping ads should be used for visitors who are more likely to do a conversion( buying products).
Product keywords are what will help you the most. This can drive conversions directly from the SERP- Search Engine Result Page.
Considering the competition right now, it is good to have a strategy for running your shopping ads on Google.com. Being ahead of the curve and in the consideration of the target audience are good things that can be done with Shopping Ads Google.
How to set them up?
First, create a Google Merchant Center account, if you don't have one.
So, you can provide Google with your product type information.
Visit https://merchants.google.com and make sure to complete the sign-up process.
When you are done, create a shopping feed containing your business products.
By doing this, you give Google needed information to display your ads.
Click on the shopping feed in the left-hand column.
It could seem difficult to set up an account, but all you need is just to fill a spreadsheet.
What is the Google Merchant Center?
This is where all magic happens with Shopping campaigns. List of products( product data feed) you sell are all here. Product data feed should be in special formats with some attributes.
These are some of them:
ID -uniquely identify your product
Title– text will be shown on your ad as the name of your product
Description– describe a product, people will see when they click the ad
Product category– choose from Google's predefined categories
Type of product– you define this
Link to website– item's page on the site
Availability of product– in stock or not
Price
After setting up Product Feed, link your Google Merchant account with Google Ads.
Select— "Settings"<> "Ads"<> "Link account"
If you don't have Ads account you can set up it with Google Merchant Center.
Now you can create a "shopping ads campaign" with the Merchant Center.
Log in to your Google Ads account and then click on + Campaign and select "Shopping".
Benefits of Google shopping ads for B2B
Why ads for B2B sales? For sure, there are several reasons but mostly include, better leads, high CTR(click-through rate) and better optimization.
No matter how good is your business going on right now, Google Ads can always help you do more. Especially, if you are a small business, take a look at how others do.
Small businesses have a passion to grow and Google Shopping Ads are a good choice for advertising brands to a large audience.
Google Adwords offers the best and easy way to create shopping ads in minutes. Results could be, getting leads, phone rings, traffic to a website and similar processes.
When you successfully use Shopping Ads on Google. com you will get desired results for the business.
Small businesses need easy ways to promote their business and make people take action on product/service. Like getting calls for asking special offers written on shopping ads.
Reach to the right people with the right ads
Google Ads helps you to reach people who are more likely to make a call, visit your store or make a purchase. These targeted audiences are interested in the same things your business offers.
Build SEO friendly shopping ads by using keywords to reach people effectively.
Manage ads in Shopify
Google Shopping App syncs your Shopify store information with Google Merchant Center.
You just update product listings directly from your Shopify admin.
Run a smart shopping campaign and track all results from Shopify.
Where to target ads?
Shopping ads can be targeted to selected countries, listed in Google Merchant Center and Google Ads Help Centers.
Conclusion
If you have an e-commerce store and want to grow, study Google Shopping Ads.
They are the best way to boost sales even if you have an offline store.
You may be confused at first while setting the ads, but once you get started, you'll find the logic.
Try and see how well they work out for your business.
How Google Shopping Ads affected your e-commerce store? What have you experienced while running ads? Comment below!